[include "menu"]
AraBoard is a project of the GIGA AffectiveLab aimed to any user with permanet or temporal needings in comunication by visual support.
AraBoard is a free software application designed for Alternative and Augmentative Communication.  It provides functional communication (using images, pictograms and sounds) for people with cognitive and communication impairment resulting from conditions such as autism, aphasia, cerebral palsy, etc.
The possibility of creating personalized boards from 1 to 32 cells makes AraBoard a communication tool for people with motor disabilities and very basic communicative needs.  Its easy handling means it can be used to create boards with simple or anticipatory routines so that users can know in advance the steps to be followed to carry out a specific task.
With AraBoard you can easily create, edit and use communication boards in different devices (computer, smartphone or tablet). It has two complementary tools:
AraBoard Constructor is used to create and edit communication boards based on pictograms available online through the server of the Aragonese Portal of Alternative and Augmentative Communication-ARASAAC. You can also use AraBoard to create personalised boards through taking instantaneous photos and the direct recording of voices or sounds.
AraBoard Player is used to execute previously prepared communication boards.
There is also the possibility of saving and printing the board as an Acrobat document, enabling functional communication in all environments and circumstances.
AraBoard is characterised by its simplicity of use in all its aspects. The graphical interface has been designed in order that educators and members of the family can intuitively create and edit boards in just a few minutes.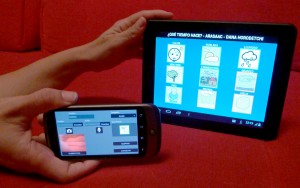 AraBoard is compatible with all MS Windows Systems and with Android 2.2 and above. AraBoard requires the Adobe Air player to be installed in the device (available free from Google Play and Adobe web).
AraBoard can be downloaded without cost undel GPL V3 license from the GIGA AffectiveLab web.[include "menu_esp"]
AraBoard es un proyecto del GIGA AffectiveLab orientado a toda aquellas personas con necesidades permanentes o transitorias de comunicación mediante apoyo visual.
AraBoard es una aplicación de software libre de soporte a la Comunicación Alternativa y Aumentativa, cuya finalidad es facilitar la comunicación funcional (mediante el uso de imágenes, pictogramas y sonidos).
La posibilidad de crear tableros personalizados desde 1 hasta 32 celdas convierte a AraBoard en una herramienta para la comunicación de personas con discapacidad motriz y necesidades comunicativas muy básicas.  Dado su sencillo manejo es utilizada para crear tableros con rutinas sencillas o de anticipación, lo que permite a los usuarios conocer, de antemano, los pasos que deben seguir para la realización de una tarea concreta.
AraBoard permite crear, editar y usar de forma sencilla tableros de comunicación para distintos dispositivos (ordenador, smartphone o tablet). Se compone de dos herramientas complementarias:
AraBoard Constructor permite la creación y edición de tableros de comunicación basados en pictogramas gracias a la comunicación directa con el servidor del Portal Aragonés de la Comunicación Aumentativa y Alternativa-ARASAAC. Además, AraBoard permite crear tableros personalizados a través de la toma de fotografías instantáneas, y de la grabación directa de voces o sonidos.
AraBoard Player permite ejecutar los tableros de comunicación previamente creados.

Además, se tiene la posibilidad de guardar el tablero como documento Acrobat para poder imprimirlo y asi facilitar la comunicación funcional en todos los entornos y circunstancias.
AraBoard se caracteriza por su sencillez de uso en todos los aspectos, ya que posee una interfaz gráfica diseñada para que tanto educadores como familiares puedan crear y editar tableros de forma intuitiva y en pocos minutos.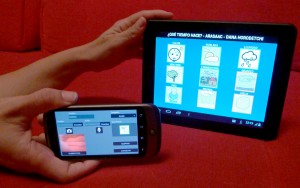 AraBoard es compatible con todos los sistemas MS Windows, y con versiones de Android 2.2 y superiores. AraBoard requiere que el player Adobe Air esté instalado en el dispositivo (disponible de forma gratuita desde el Google Play y web de Adobe).
AraBoard se puede descargar gratuitamente bajo licencia GPL V3 desde la web del GIGA AffectiveLab.