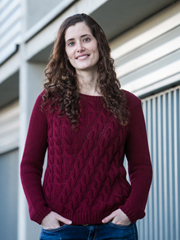 Maria de Luna, 1. Edificio Ada Byron. 50018, Zaragoza (Spain).
Email: bmasia (at) unizar (dot) es
Google Scholar
Short biography:
Belen Masia is a tenured Associate Professor in the
Computer Science Department
at
Universidad de Zaragoza
. She is a member of the
Graphics & Imaging Lab
of the
I3A Institute
, and of the
Vision, Image and Neurodevelopment Group
of the
IIS Aragon Institute
. Her research focuses on the areas of computational imaging, applied perception, and virtual reality. Before, she was a postdoctoral researcher at
Max Planck Institute for Informatics
. Belen received a Eurographics Young Researcher Award in 2017, a Eurographics PhD Award in 2015, an award to the top ten innovators below 35 in Spain from MIT Technology Review in 2014, and an NVIDIA Graduate Fellowship in 2012. She has served as an Associate Editor for ACM Transactions on Graphics, Computers and Graphics, and ACM Transactions on Applied Perception. She is also a co-founder of
DIVE Medical
, a startup devoted to enabling an automatic, fast, and accurate exploration of the visual function, even in non-verbal patients.

· Virtual reality:
Our work in virtual reality pursues understanding and modeling user behaviour in virtual environments. This includes saliency prediction, modeling of multimodal perception, or the exploration of cinematography in VR, among other topics.
· Modeling and perception of appearance:
Our goal is finding appearance representations that correlate well with human perception and are intuitive to manipulate and edit by users. With this goal in mind, we work on the design of material appearance metrics, intuitive control spaces for editing, and applications such as gamut mapping.
· Applied perception and visual function:
Our work leverages insights from how the human visual works and computational models of perception to improve algorithms and techniques in graphics and vision. In addition to this, we work on the evaluation of the visual function and the diagnosis of visual defects in non-collaborative patients.
·
Other topics of interest include
high dynamic range imaging
and
computational displays
.