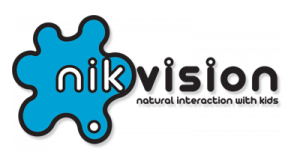 NIKVision is a tabletop prototype designed to be mainly used by small children. Interaction with NIKVision is carried out with physical manipulation of conventional toys on the table surface. No electronics are needed to use a toy in NIKVision, just it is needed to attach a printed marker in it base. NIKVision uses Reactivision software and fiducials.

NIKvision tabletop has been designed with a Children-Centred design methodology, looking for the best usability and user experience in very young children.
It is suitable to be installed in nurseries, schools and public spaces such us museums.

NIKVision has a very simple design and do not use complex or expensive technology. It can be built in different sizes, and it is robust enough to be used by children, but also completely demountable to be easily transported.